---
Eureka Springs
Diversity Weekend
Melonlight Dance turns up the romance on an already hot Saturday afternoon.
FESTIVAL KICK OFF
---
April 6-8, 2018
Eureka Springs has long been known as a tourism destination for the LGBT community, and the city celebrates its diversity with Diversity Festivals three times a year. Slated for April 6-8, the Spring Diversity Festival is shaping up to be the best one yet.
Jay Wilks, organizer of the event, said the festival will kick off with a meet and greet at Brews on Friday night. The meet and greet is a great opportunity for those unfamiliar with Eureka to get to know locals, Wilks said.
"You can get the feel for the community and what's going on here," Wilks said. "It's like a giant cocktail party."
After the meet and greet, local band The Buffalo Gals will perform. Saturday is full of events in Basin Spring Park, Wilks said, starting at 11:45 a.m. with the "I got lei'd in Eureka Springs" event, where participants are given colorful leis. Gizele Monae and Doug Shadell will co-host the events in the park, Wilks said. At noon, guest speaker and state Senate candidate Jim Wallace will speak about diversity.
"He's not going to speak about politics but about Eureka Springs and why we are such a small, tight-knight community," Wilks said. "He's another local that's very quiet in the background but does a lot of promotion of the city as a whole, especially the arts."
Alan Margolies symbolizes 'peace and diversity.'
Dee serves up free scoops of ice cream to everyone in the park.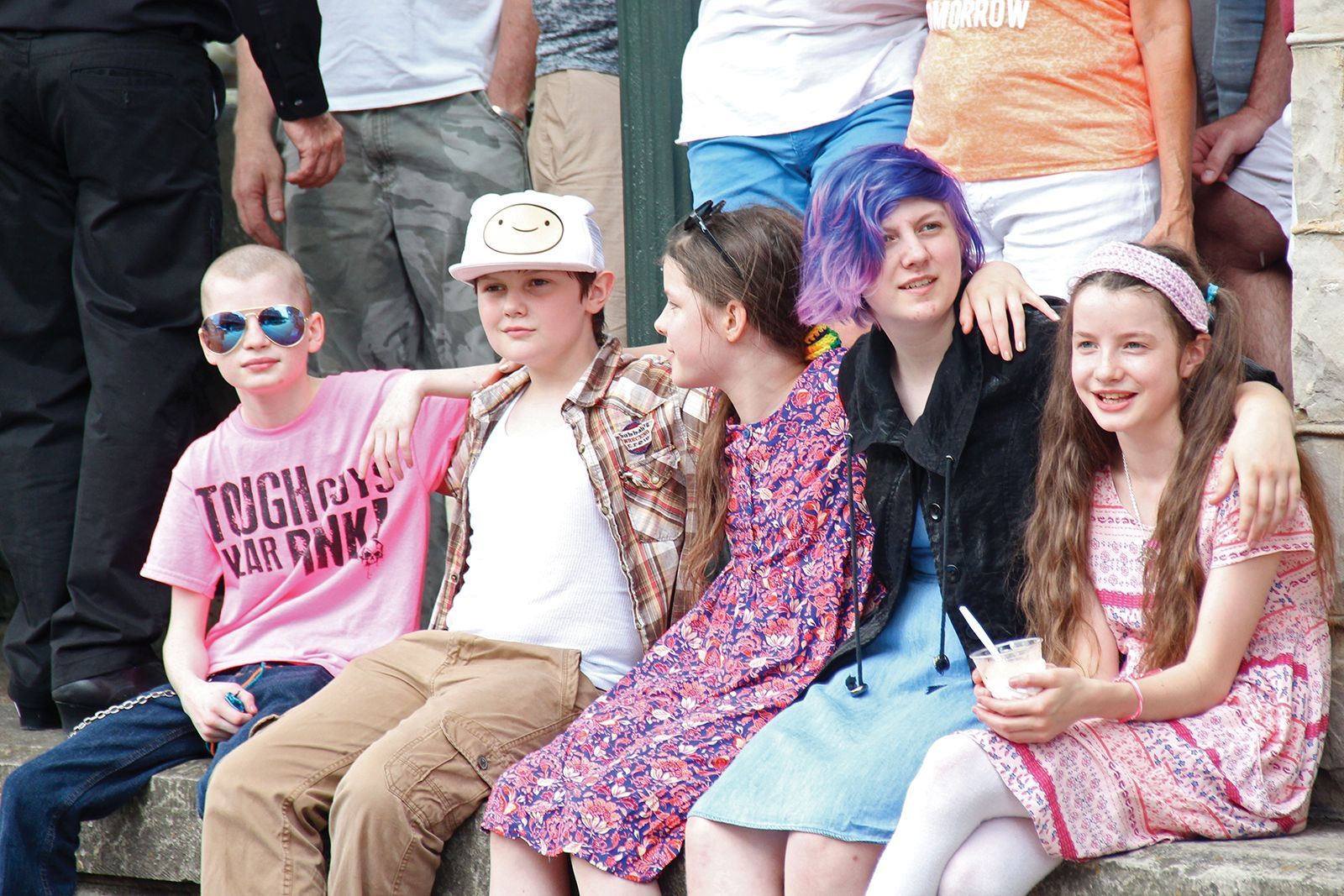 Siblings Corbin and Clover Danos gather with friends to celebrate diversity.
The annual PDA in the Park will take place at 12:15 p.m., followed by a big wedding. Wilks said all couples are welcome to get married in the park together, officiated by local celebrity and renowned artist Zeek Taylor.
"It doesn't matter if they're from the LGBT community or not. We already have some straight couples signed up," Wilks said. "It's just another way to commit your love for each other."
Various performances are scheduled from 1 p.m. to 4 p.m. After that, Wilks said, there will be a two-hour break before Drag Queen Bingo at 6 p.m. Musical performances are planned throughout the weekend, Wilks said, and that kind of programming is new to the event.
"We're looking at bringing in more local artists and well-known artists for the park and other events," Wilks said. "For the first time in a long, long time, we have all lesbian performers in the park. We've never had that many lesbian performers. Diversity includes everybody."
There will also be transgender performers, Wilks said.
"Certain rights of transgender people are not being recognized. There's really not enough recognition for them," Wilks said. "Eureka has an underground transgender community, and a lot of them don't go out. They don't feel welcome. We've got to change that if we're going to have Eureka continue to be diverse."
Several businesses will be offering discounts for those who come to town for the festival, Wilks said, from lodging to restaurants to shops.
"That's nice, because we've never had that before," Wilks said.
The Diversity Festival was once called Diversity Weekend, Wilks said, but that changed to reflect the atmosphere of the event.
Friends Alan Margolies and John Rankine walk hand-in-hand down Spring Street on their way to the Human Rights Film Festival at The Aud on Saturday.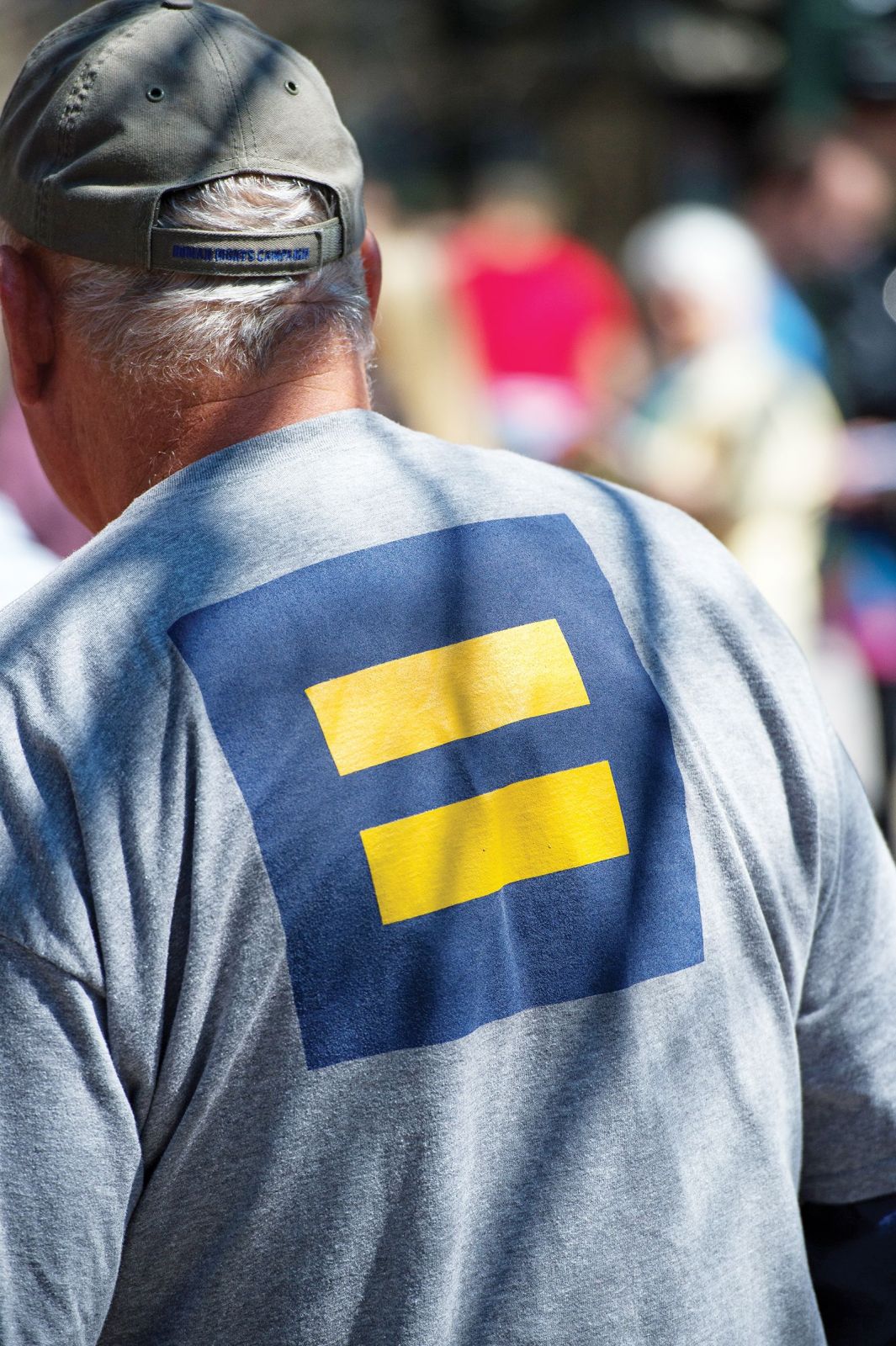 Each Diversity Weekend has a much-anticipated public display of affection, known as PDA in the Park.
"We wanted to make it more of a festival by adding all these different events from Friday through Sunday," Wilks said. "There's more to do and more family friendly events."
For Wilks, diversity is a lot like vegetable soup.
"You just dump everything in there. It's not just the LGBT community," Wilks said. "It's about those of different faiths, of different colors, of different origins, and that's where I think Eureka as whole succeeds. People know if you're an interracial couple, you are welcome to come to Eureka."
The festival was never a pride weekend, Wilks explained.
"It was diverse because of the different aspects of the community, and now it's expanded out," he said. "It's grown to where diversity is including everyone. People who come to Eureka don't have to be afraid of who they are. If you want to hold hands, hold hands. That's important."
Eureka Springs businesses are excited to welcome everyone to town during the festival, Wilks said.
"We recognize who you are. Eureka is a place where you can come and just be yourself," he said. "Come for the love. Everything else will follow after that."