Hidden Gems
You can hike and bike pretty much anywhere in Eureka Springs, from Lake Leatherwood City Park to Black Bass Lake to downtown. Just grab a map, pick a trail and prepare for adventure.
Lake Leatherwood
Parks director Justin Huss said the most popular trails are located at Lake Leatherwood, pointing to the one-mile trail near the dam. That's an easy trail, Huss said, making it perfect for the whole family.
"There's a nice spot to stop where you can swim and hang out on the way," Huss said. "It's mainly old road beds. You can walk across the dam."
If you hike all the way around the lake, Huss said, that's a bit more difficult.
"You're getting closer to four miles and a more rugged terrain, but it's beautiful. That's probably the second-most popular trail we have," Huss said.
There are 25 miles of trails at Lake Leatherwood, Huss said. The Miner's Rock Trail is one of the most popular trails, but he said it's still under construction for new downhill mountain biking trails. By mid-June, Huss said, Miner's Rock Trail should open again. Even better, he said, it will be new and improved.
"We've extended it and made it into a loop," Huss said. "The Miner's Rock feature is something people love to go to. We have some new rock gardens now, so you can take the Miner's Rock trail and do a full loop and end up right back where you started."
He continued, "We're really excited about that one. It's accessible by everybody. It takes us through some areas that you couldn't get to before, that we didn't even know were there. That's pretty exciting, too."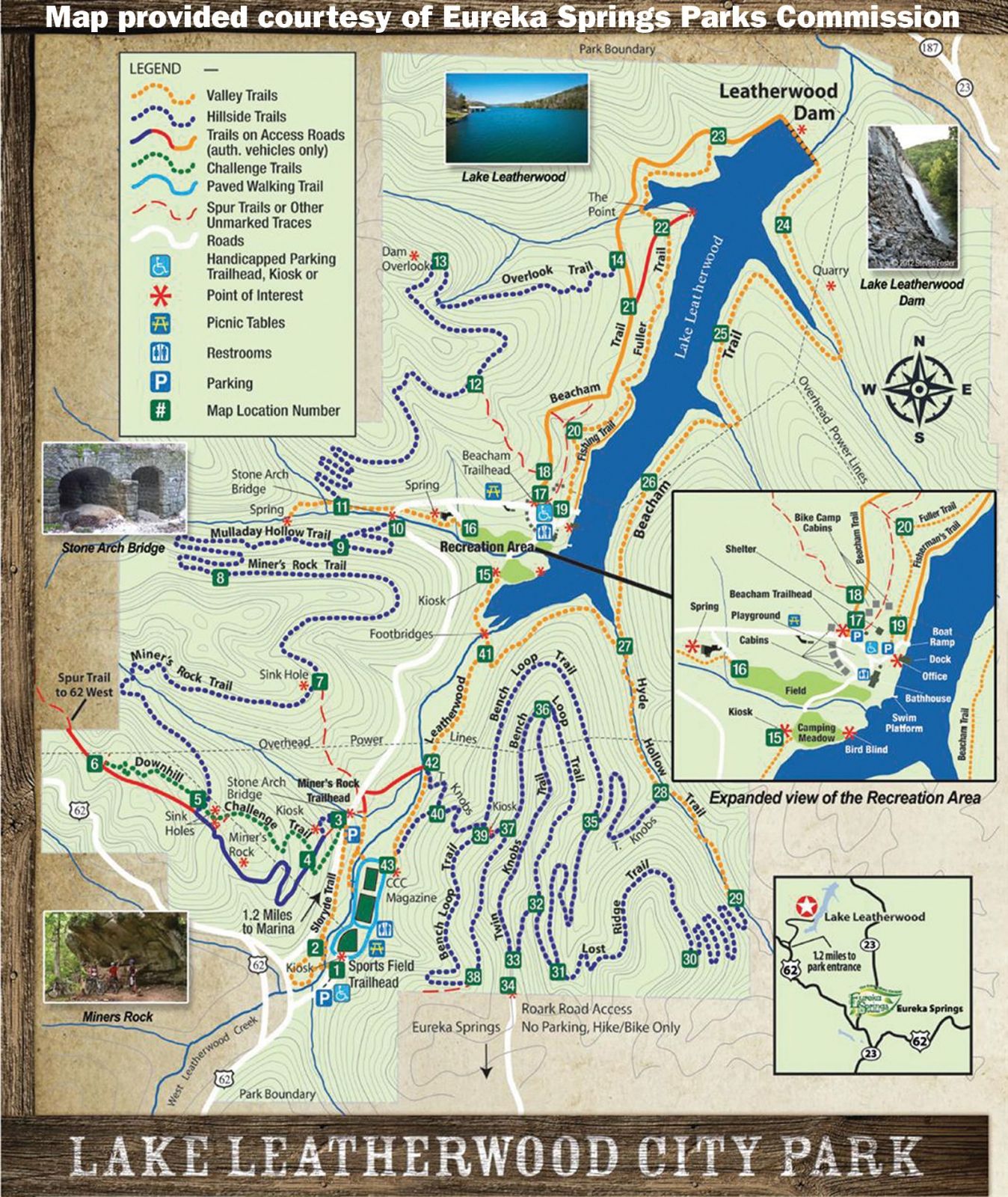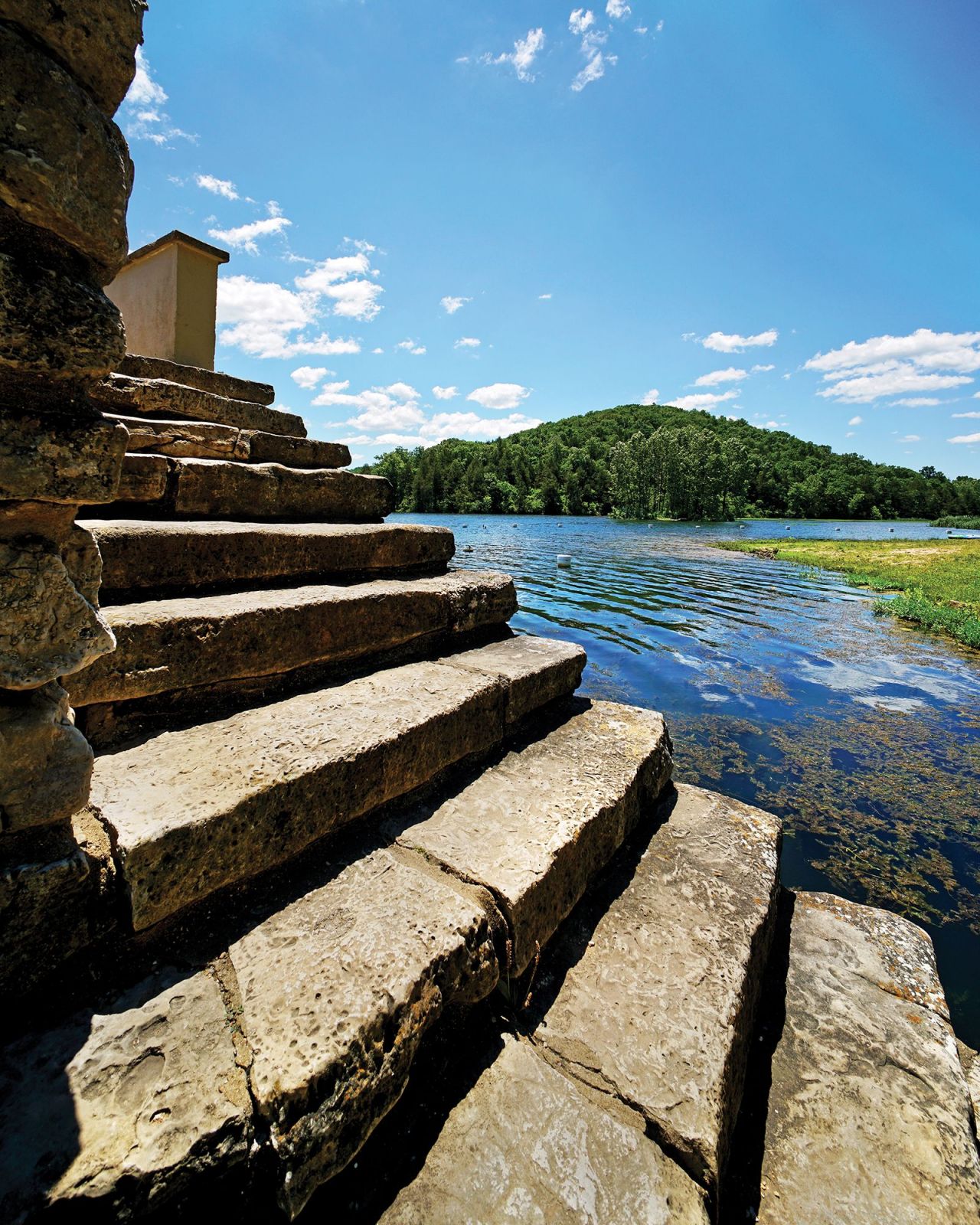 In-town Trails
When it comes to in-town trails, Huss said, he's fond of the Crescent Loop that goes through Harmon Park. The parks department is working to put more art on the trail, Huss said, starting with a mural featuring dogs walking hippies at Harmon Park. That's available to view now, he said.
"You can walk right through there and have a nice spot to eat lunch and take a walk," Huss said.
What makes the trails so special, Huss continued, is how they give visitors a chance to experience Eureka Springs in a different way. There are numerous stairways and trails through downtown, Huss said, leading to interesting sights.
"The trails in town are always neat. Some of them feel like you're out in the woods. Some of them feel like you're behind a neighborhood," Huss said. "Either way, there's so many neat little things to see on our trails that you wouldn't see if you were driving, all the nooks and crannies and architectural things."
People can park their car, he said, and go anywhere they want in town on the trails. There are lots of benefits to that, Huss said.
"We're always talking about parking in town. If we have people who are active who take a trail downtown, that's one less car there," Huss said. "Aside from being healthy and helping with parking, the trails really help people experience things in town. Every time you walk on them, you find something new."
Eventually, Huss said, the parks department hopes to connect all the trails in town and at the parks. He said the ultimate goal is connect Lake Leatherwood to downtown Eureka Springs.
"Trails are an old technology that's a new technology. It's something we've seen great advances on," Huss said. "The city was laid out for pedestrian travel. There's a lot of opportunity for that, and lots and lots of future plans to expand on it."
He continued, "It's just a pursuit of happiness kind of thing. We have some trails where you can quickly feel like you're in the woods, and then you pop up behind a historical structure built onto a rock, and maybe there's a gnome house below you. You'd never see that when you are driving."
Future Eureka Springs Community Center Trail Hub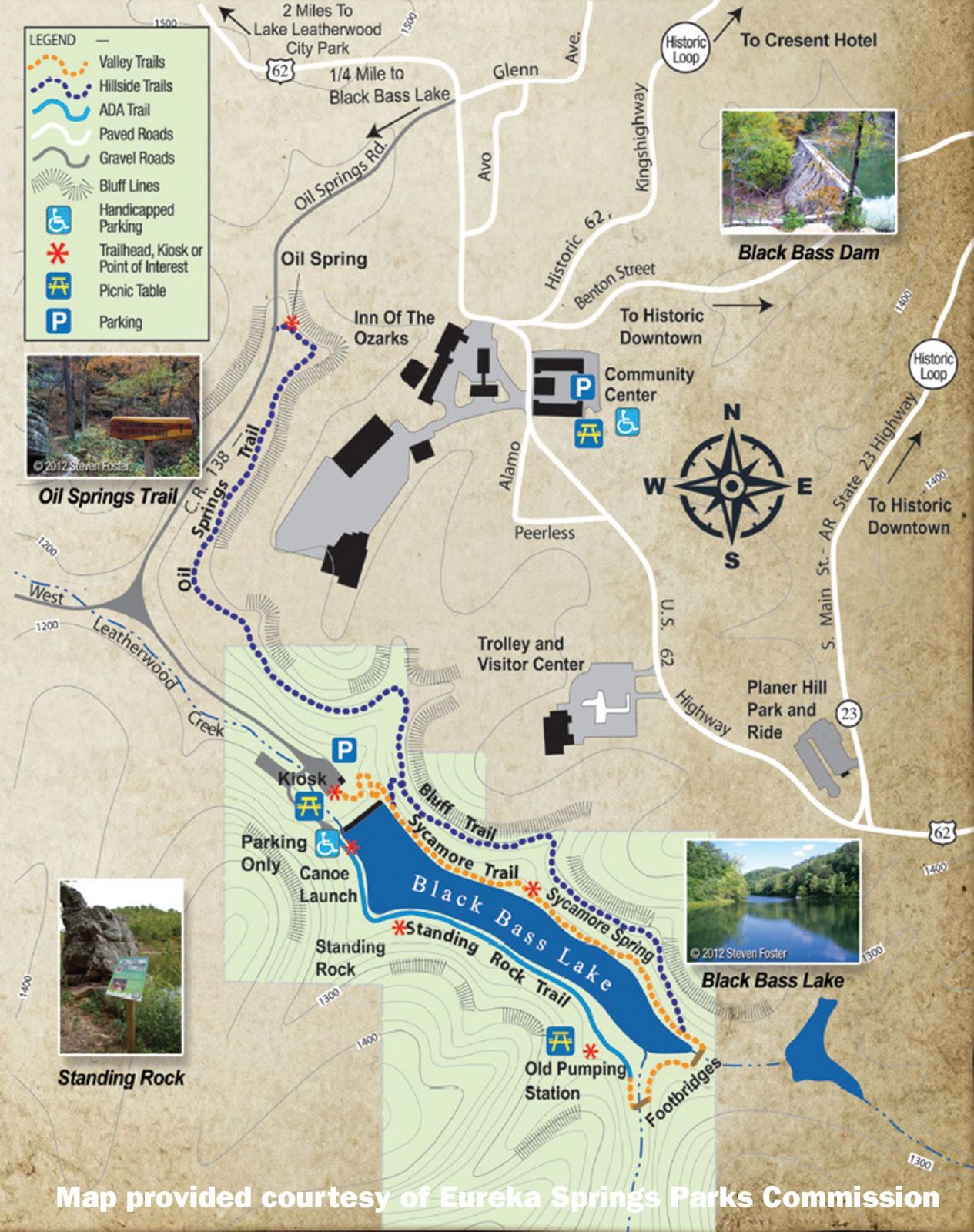 Black Bass Lake City Park