Sara Russell showed off beautiful works of art as well as her beautiful grandchildren, Anastasia and Draven.
Eureka Springs is known for its vibrant art community, filled to the brim with painters, singers, writers, photographers and every other kind of artist you can imagine. It only makes sense to kick off the season with May Festival of the Arts, a month-long event featuring one-of-a-kind art exhibits, demonstrations, performances, culinary arts and music.
Festival of the Arts runs the entire month of May with lots to check out
The festival begins Saturday, May 5, at the first Artrageous Artmosphere Street Festival in downtown Eureka Springs. Sandy Martin, an organizer of the event, said the street festival will establish the kind of atmosphere that visitors should expect all month long. There will be buskers all around the streets downtown, Martin said, and each act will be unique.
"When you start walking up the street, you'll start seeing it on South Main," Martin said. "You'll see street buskers of a variety of different performances … jugglers, musicians, performance artists that will be scattered throughout the street."
The buskers will perform all day long, Martin said.
"The idea is to entertain the public and keep them walking up and down the streets to see what's going on," Martin said.
When the annual Artrageous Parade rolls down Spring Street that afternoon, Martin continued, the buskers will join in to keep sharing their talents. Visitors are welcome to jump in the parade, too.
First place Artrageous winner Gina Gallina turns heads to say the least, leading an entourage of colorful crochet creations down Spring Street and into Basin Park.
Grand Marshal John Rankine leads the 2017 Artrageous Parade in downtown Eureka Springs.
Opera of the Ozarks enlists the help of operatic volunteers for its parade float.
Ethan the Juggler doesn't only toss fire. He is also a talented unicyclist, dancer, photographer and origami artist.
Children lined the streets to catch candy and behold the outrageous wonders. Among them are Eureka Springs Elementary School students Dilanna and Janelle.
"Don't sit and watch the parade. Get in it. Do what you want to do," Martin said. "To me, that is artrageous."
Basin Spring Park will be the site of Drumming in the Park after the parade, Martin said, and the world premiere of "Willo Mancifoot and the Mugga Killa Whomps" will follow at The Auditorium that night. Written by Eureka Springs local Valerie Hubbard Damon, the original musical inspires compassion, tolerance, forgiveness, generosity and multicultural teamwork to create a more loving world.
"It's a pretty full day and night of a variety of different performance arts," Martin said. "You can park in one place and see it all within an easy walking distance."
The events continue after the kick-off weekend, with local artist Doug Myerscough working on the Harmon Park Mural and Art Trail Project for the next couple weeks. Myerscough will be painting a family-friendly mural at Harmon Dog Park, Martin said, and he's hoping to get young people involved in it. Martin said Myerscough will unveil the finished mural on May 19, when visitors can view a time-lapse video showing the work in progress and get tips from Myerscough on how to create their own mural. When it comes to the mural itself, Martin said, we should expect something uniquely Eureka.
"It's going to be a very cultural, picturesque and very unique thing only Eureka could do," Martin said. "We're going to have kids participate in doing their own mural we'll put up somewhere in town."
Lisa Brinkey is paws-itively artrageous on Turpentine Creek Wildlife Refuge's float.
Antoine's ensemble of talented percussionists and lively dancers make a fine finale to last year's outrageous Artrageous Parade.
Even dragons are possible at the Artrageous Parade in Eureka Springs, where spectators are welcomed to join in the fun. The parade begins the month-long Festival of Arts beginning, May 1.
Popular local crochet artist Gina Gallina will host the Yarn Bomb and Music Event on May 12 at the Music Park on North Main Street. Gallina will teach crochet lessons all day, Martin said, and plans to cover the trees with yarn. It's especially exciting to offer this event, Martin said, because Gallina is well-known in the crochet world.
"She's won some stuff in New York. She just blew fashion week away in Bentonville, because she did something totally unique and different," Martin said. "It made everybody explode down there. She's an incredible talent, a singer, musician, crocheter and overall artist."
Other exciting events during the festival include the Northwest Arkansas Juggling Festival, the Art Wall Reveal, Ozarks Chorale Spring Concert, the Plein Air Festival and the Chalk Art Street Festival. The idea behind this year's festival, Martin said, is to spread events out through town.
"We're trying to get more circulation throughout town … the Main Street as well as Spring Street and out in the corridor," Martin said. "We also want to do more things during the week."
That allows visitors to come to town during the week, Martin said, and easily find something to do.
"There are several things happening during the week," Martin said.
Her favorite thing about the festival, Martin said, is how it encourages everyone to get involved with what's happening in town.
"You can learn how to juggle. You can learn how to do chalk art. You can learn how to do a mural or carve a totem," Martin said. "You can learn how to crochet and yarn bomb and make musical instruments. There's a lot of things you can learn."
No matter what happens, Martin said, the month is guaranteed to be as artrageous as possible. And what does it mean to be artrageous?
"It means you have a sense of fun and a sense of self, because art is something no one should ever try to define or describe to you," Martin said. "It's really an expression. We want people to come to May Festival of the Arts and feel they can be their artrageous selves."
Groves Karate Studio impressed the crowds with a live demonstration and a Chinese dragon.
Select the button below to view all the featured events in Eureka Springs during the Festival of the Arts 2018!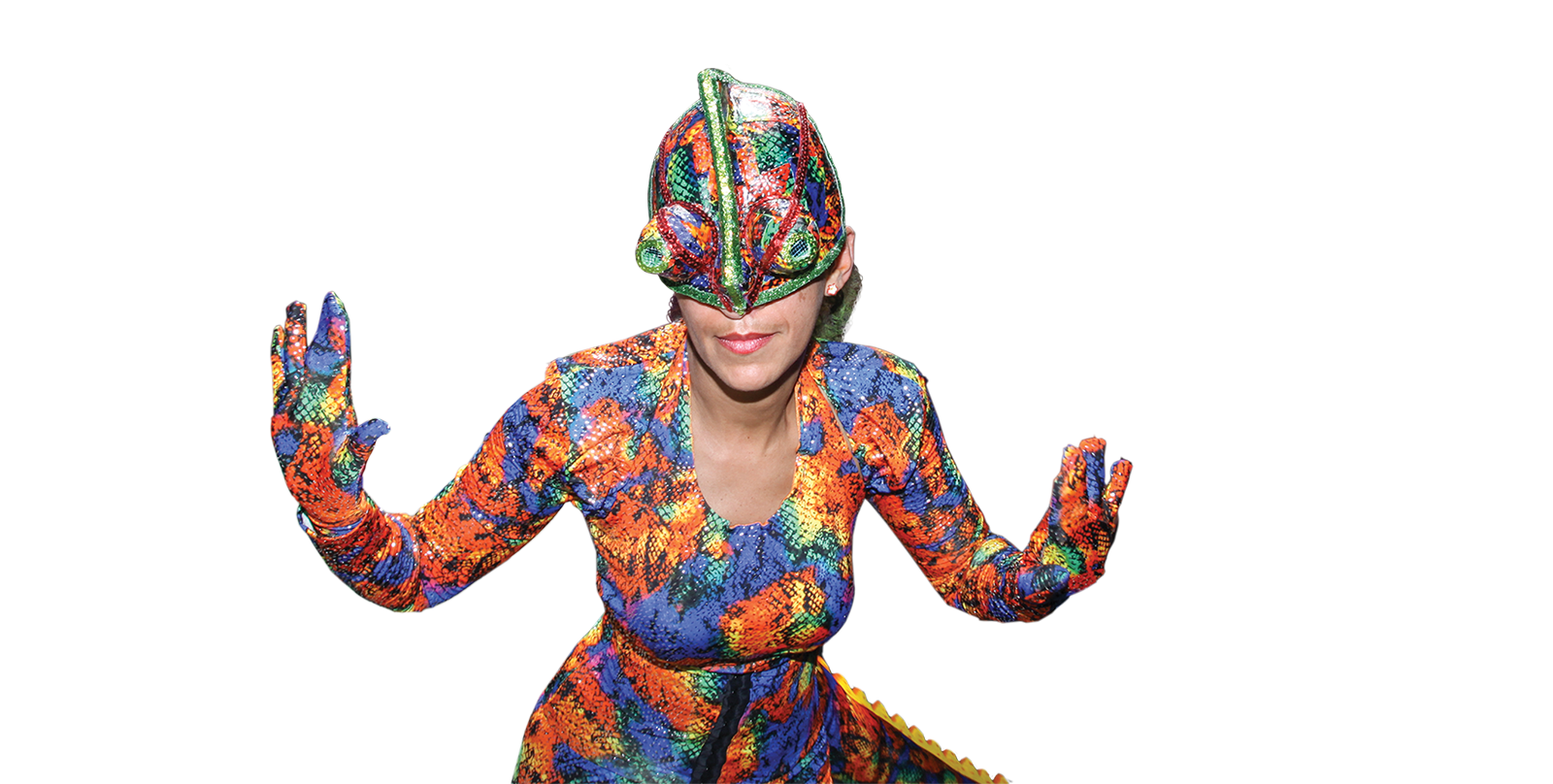 This masked woman knows how it feels to be in an animal's skin.