Ghost Tours at Crescent Hotel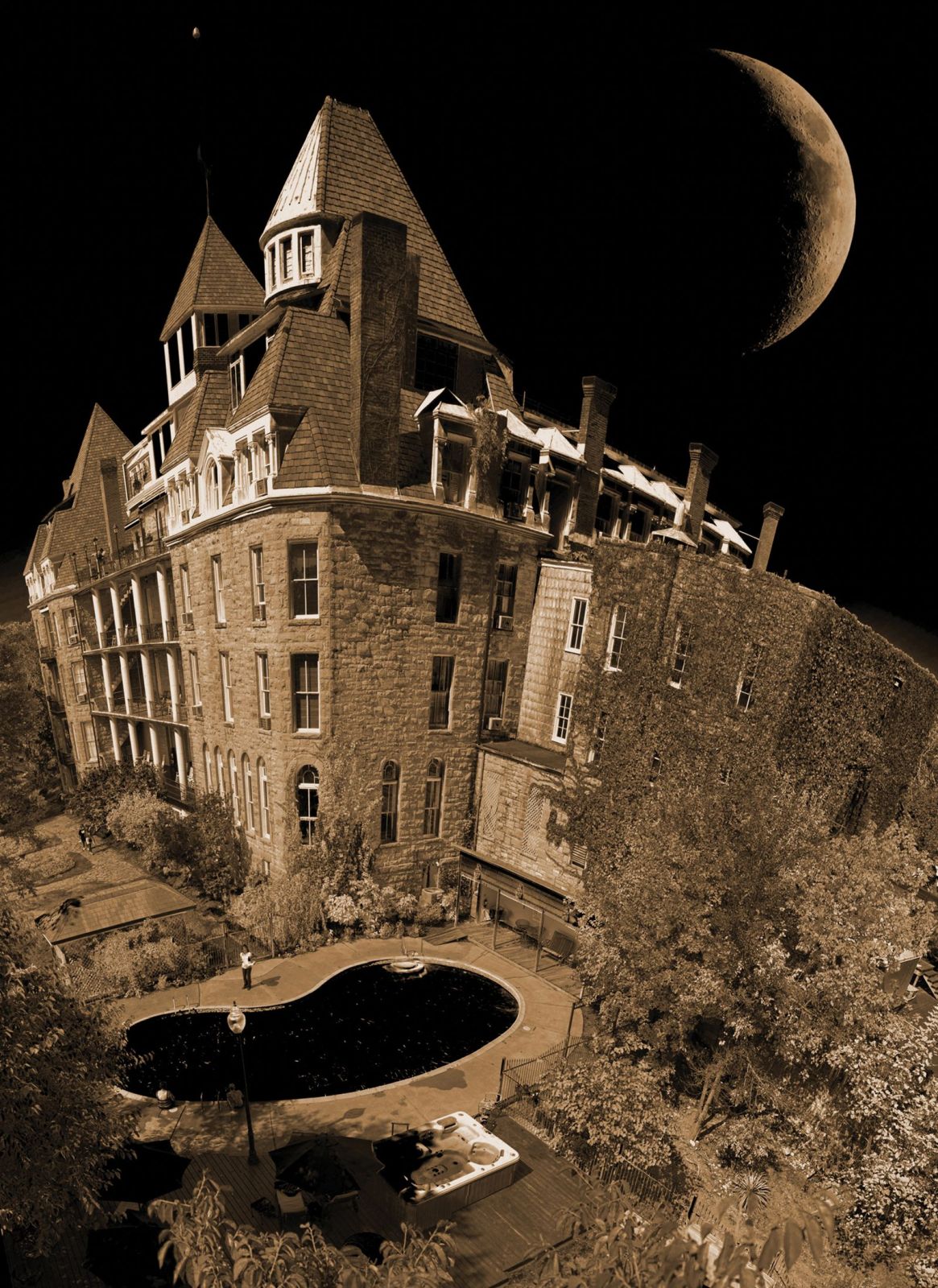 Spooky Stories
---
Experience the supernatural at the Crescent Hotel's ghost tour
Spirited atmosphere
If you're looking for a spooky adventure, stop by America's most haunted hotel for a ghost tour. The Crescent Hotel offers 75-minute ghost tours every night starting at 8 p.m.
Keith Scales, who manages the tour, said the hotel is full of spirits. The earliest spirits come from the late 1880s, Scales said, when the hotel was being built.
"There's some superstitions that if somebody dies when a building is under construction, it will be a host to spirits from then on, and that's what happened here," Scales said. "One of the Irish stonemasons who built the building — his name was Michael — fell off the building when he was trying to flirt with a woman down below. He is still here, and he still flirts with the girls. He's still having a lot of fun."
Michael is infamous for kicking men out of bed and ripping shower curtains open. It's common for women who stay in the hotel to feel they're being watched, Scales said.
"People have reported being grabbed by the ghost, or they feel his presence during the night," Scales said. "He's also a poltergeist. He likes to throw things around and mess things up. He's one of the most notorious ghosts, and he's the earliest."
Another famous ghost is Norman Baker, a hospital administrator who operated the hotel as a hospital for cancer patients in the 1930s. There are many misconceptions about Baker, Scales said.
"Most of what you've heard is probably baloney. He was never a doctor. He never called himself a doctor," Scales said. "He wouldn't be allowed to do that. He'd be kicked out for practicing without a license."
Baker opened buildings and gave people what he called a cure for cancer, Scales said. When he moved to Eureka Springs, Scales said, Baker closed down two hospitals and brought those patients to town.
"If he felt he couldn't do anything more for them, he'd kick them out," Scales said, "or they'd die here. He made himself today's equivalent of $65 million doing that."
There are urban legends of bodies being buried behind walls or burned in the incinerator, Scales said.
"That's total rubbish. It's just nonsense," Scales said. "Norman Baker was not a murderer. He was not a sadist. He was just a greedy, unconscionable guy who was willing to let people suffer as long as they paid him. That's all he cared about was money."
Scales remembered Baker's chief of staff Theodora, whom he called one of the most popular spirits at the hotel. Theodora is known for packing up people's bags, organizing rooms and folding clothes. If she thinks you don't belong at the hotel, Scales said, Theodora will get your bag ready for you. Theodora's reason for staying at the hotel, Scales said, is to help lost spirits find their way home.
"That's the way it was expressed to me. I'm not a medium, so I don't pretend to understand what that really means," Scales said, "but it's a lovely thought. We like Theodora. We love Theodora."
While the hotel is certainly haunted, Scales said, it's important to know most of the activity there isn't caused by raucous spirits.
"Every towel that falls off a rack or every knock that happens on the wall is not necessarily a supernatural occurrence. There's lots of sounds in the building, lots of weird electrical patterns," Scales said. "There's a lot of ghost tours out there run by folks who don't care and are just trying to tell a story and make a buck. We are trying to give a tour that's intelligent. If there are ghosts here, we give them their dignity."
For those who come on a tour, Scales said, he hopes they feel their time is well-spent.
"If they come here with a closed mind, I'd like them to open it up a bit," Scales said. "When people say there's absolutely no such thing as ghosts, they're claiming they know how the universe works. We don't have any idea how it works."
Scales continued, "A lot of people are on the fence when they come here, and they're true believers by the time they leave. We just want to give them an intelligent examination of what could be going on after death."
For more information on the tour, call 479-253-9766.