Featured Artist
---
Eureka Springs artist reflects on career in arts
Accidental author
Eureka Springs resident Zeek Taylor has been an artist for a long time, but he never thought he'd be an author, too. Taylor has spent the past two years promoting his first memoir, Out of the Delta, and he's loved every bit of it.
"I've been doing book signings and book talks, which goes along with my art," Taylor said. "It's an extension of my art. That has been really fun. I've been able to tell stories and do public speaking, which is something I never thought I'd be able to do."
Taylor calls himself an "accidental author."
"I never had writing a book on my bucket list. I just happened to do it one story at a time," Taylor said.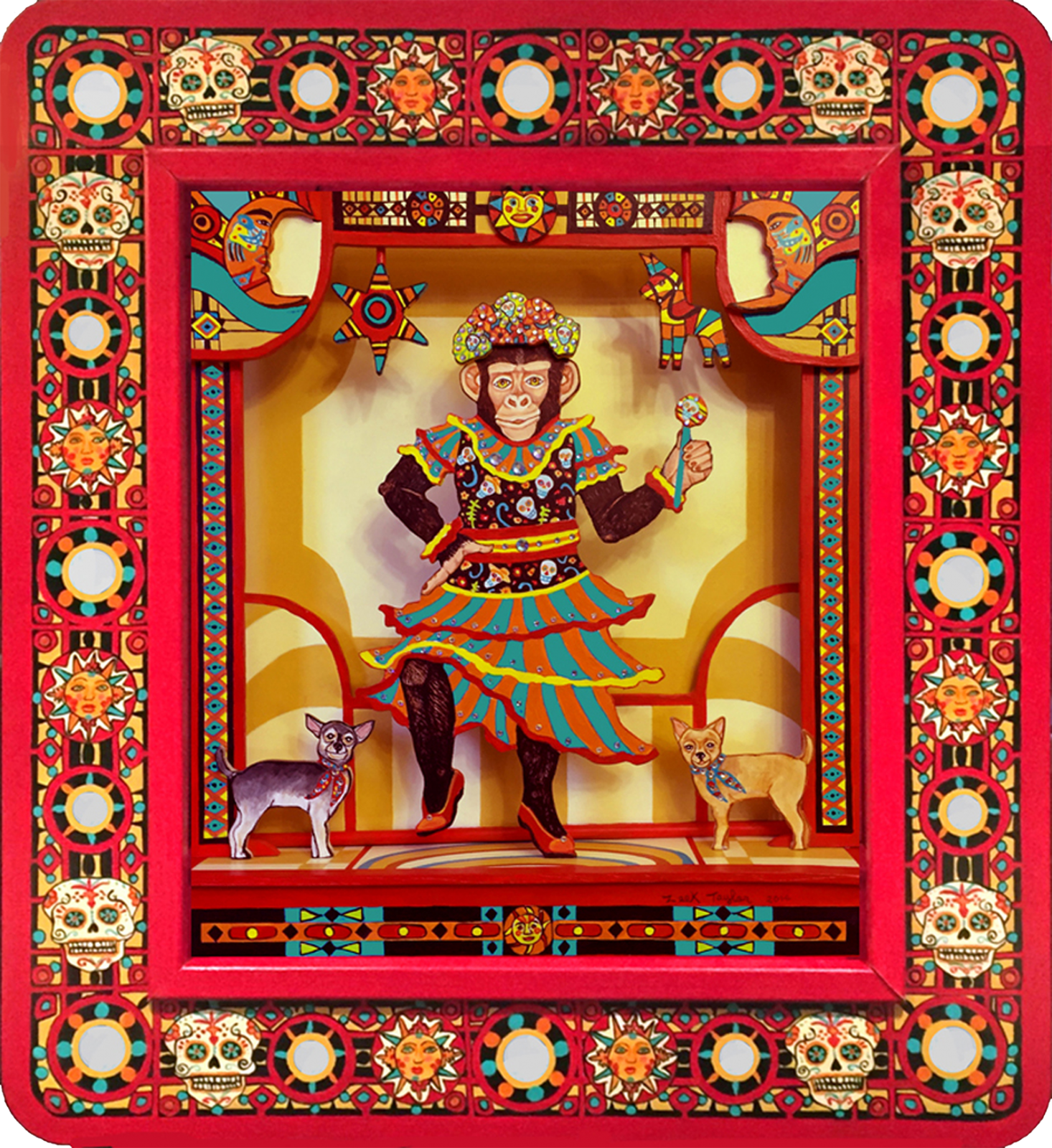 His chimpanzee paintings are the focus of his first book: "Chimps Having Fun." Taylor's second book "Out of the Delta" is a collection of short stories created from his childhood in the Arkansas Delta.
He remembered writing stories on social media for Throwback Thursday, and, to his surprise, many people began asking him to put the stories in a book.
"After I had dozens and dozens of stories, I thought, 'Hey, I think I've written a book,' " Taylor said.
Taylor is famous for painting depictions of clothed chimpanzees, something else that happened by accident. The project began as an assignment at his day job, when he was painting scenes requested by a bedding company that would be transferred onto pillow tops. One of these requests was a clothed chimpanzee, and it quickly became a best seller.
His chimpanzee paintings were the focus of his first book, called Chimps Having Fun. The book features 35 chimpanzees in whimsical costumes and settings, and each painting has a story title to further illuminate the setting. Along with the chimp paintings, Taylor said he also enjoys painting watercolors and creates a hand-painted border instead of using mattes.
He has won several awards for his work — some of which has been displayed at the Crystal Bridges Museum of Art in Bentonville — but his biggest accomplishment came in 2012 when he received the Arkansas Governor's Art Award for Lifetime Achievement.
"Nothing better could have happened to me than to receive that award, because it recognized a lifetime of work," Taylor said.
A native Arkansan, Taylor said he was honored to receive the award in his home state. Taylor recalled growing up near Paragould and attending Arkansas State University, discovering a passion for art somewhere along the way.
"I always liked to draw and paint, but I was pretty much self-taught up until the time I went to college. The school I attended didn't have art," he said.
He taught for two years after finishing college but decided to pursue painting more seriously, studying at the Memphis College of Art.
He returned to Arkansas once he finished studying there and said he plans to stay in Northwest Arkansas.
"I have roots here. It's so beautiful and a great place for an artist to live and be inspired," he said. "I've been most content to remain an Arkansan."
He noted the rugged beauty, including the rock formations, wildflowers and trees, in the Ozarks.
"There's so many trees compared to the farmlands I grew up in where a lot of trees and vegetation have been cut down," he said.
Through his art, he discovered a passion for public speaking. Taylor said he has spoken on art several times; he has delivered a Ted Talk, he said, and has been featured twice on the radio program Tales from the South. When he released Out of the Delta, Taylor said, he began giving talks on his stories and his art.
"For the month of July, I was the featured artist at the Boone County Library in Harrison," Taylor said. "My art hung for the entire month on the mezzanine. It was followed up with a book signing and a book talk. I think the two pair well together. It's been exciting to have both."
Another exciting thing, Taylor said, is how Eureka Springs has evolved to become an art haven over the years.
"We really are an art colony. You don't have to go to New York or Dallas to buy good art," Taylor said. "It is here, and I think when tourists go to the galleries and see the quality of our work, they're going to go home and tell their friends, 'This is a good place to go see and buy art.' "